Sidney Nolan: Myth Rider Forum
Join us for an afternoon of thought-provoking discussion and a moving musical performance responding to the exhibition Sidney Nolan: Myth Rider.
The Sidney Nolan: Myth Rider Forum will feature an introduction to the exhibition by the curator Anthony Fitzpatrick, and presentations by Jane Clark (art historian, writer and lecturer and Senior Research Curator, Museum of Old and New Art) who will discuss the artist's intellectual and performative approach to making art in 'Sidney Nolan: thinking fast and slow and painting like a boxer' and Sarah Midford (Senior Lecturer in Classics and Ancient History, La Trobe University) who will highlight the connections that Nolan drew between the Gallipoli campaign and the Trojan War in 'Mythmaking from Achilles to Anzac'.
The afternoon will conclude with a performance by the contemporary composer and multi-instrumentalist Rosie Westbrook, who will premiere a new composition for double bass commissioned by TarraWarra Museum of Art which she has produced in response to the exhibition.
TICKETS $20 ($15 Members and concession)
Artwork: Sidney Nolan, Pale Figure on a Horse 1956. Collection of Frederick and Jennifer McMurray © The Trustees of the Sidney Nolan Trust / Bridgeman Images. Copyright is now managed by the Copyright Agency. Photo © Agnew's, London / Bridgeman Images
Further information
Curator, art historian, writer and lecturer, Jane joined Mona—Australia's largest private museum—in 2007, during the initial planning phase, having been Curator of Major Special Exhibitions in both international and Australian art at the National Gallery of Victoria, Melbourne and then Deputy Chairman of Sotheby's in Australia. Since Mona opened in 2011, she has worked on all the museum's major exhibitions and publications as a key member of the core creative team led by owner, David Walsh. She helped develop and writes for the museum's unique interpretive 'electronic label' device—the Mona O. She is usually based in Melbourne.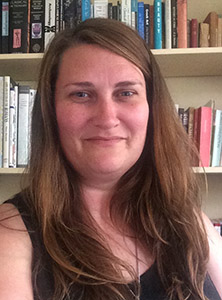 Sarah Midford is a Senior Lecturer in Classics and Ancient History and the Associate Dean (Learning and Teaching) in the School of Humanities and Social Sciences at La Trobe University. Her research focuses on the cultural impact of war in Australian art, architecture, literature and commemorative processes, as well as Classical Reception in the Antipodes post-European settlement. She is particularly interested in how Australian national identity has been constructed using classical ideas, texts and aesthetics. She has a multi-disciplinary publication record in Australian Studies, Classical Reception Studies, Ancient History and Art History.
Rosie Westbrook is a contemporary composer and multi-instrumentalist, classically trained in guitar and double bass. Rosie has played in orchestras, chamber ensembles, theatrical productions and with countless contemporary music artists, both within Australia and internationally.
Rosie released solo albums Wave in 2003 and Big As The Ocean in 2007, receiving critical acclaim and establishing her compositional style of creating music that is evocative, spacious and inherently cinematic. Since then, in addition to composing new material, she has developed a solo performance practice based on responding to visual art, creating live music installations for exhibitions at TarraWarra Museum of Art; Kaliman Gallery (NSW); Milani Gallery (QLD); University of Queensland Art Museum and a series of commissions to create music for works produced by the Australian Tapestry Workshop. In 2019 Rosie was an Artist in Residence at the Australian Tapestry Workshop.
As a composer for film and television, Rosie has produced soundtracks for a number of documentary films profiling Australian artists including Lindy Lee; Del Kathryn Barton; Jon Cattapan and Patricia Piccinini. In 2020/2021 Rosie wrote and performed the live score for JOY, a theatrical collaboration with Australian playwright Christine Croyden, based on the life of the late Australian painter, Joy Hester. JOY was performed at Heide Museum of Art (VIC) as part of the Remember Me exhibition of Joy Hester's work. Rosie is currently a recipient of a Creative Victoria grant to produce an album of new instrumental music, scheduled for release early in 2022.