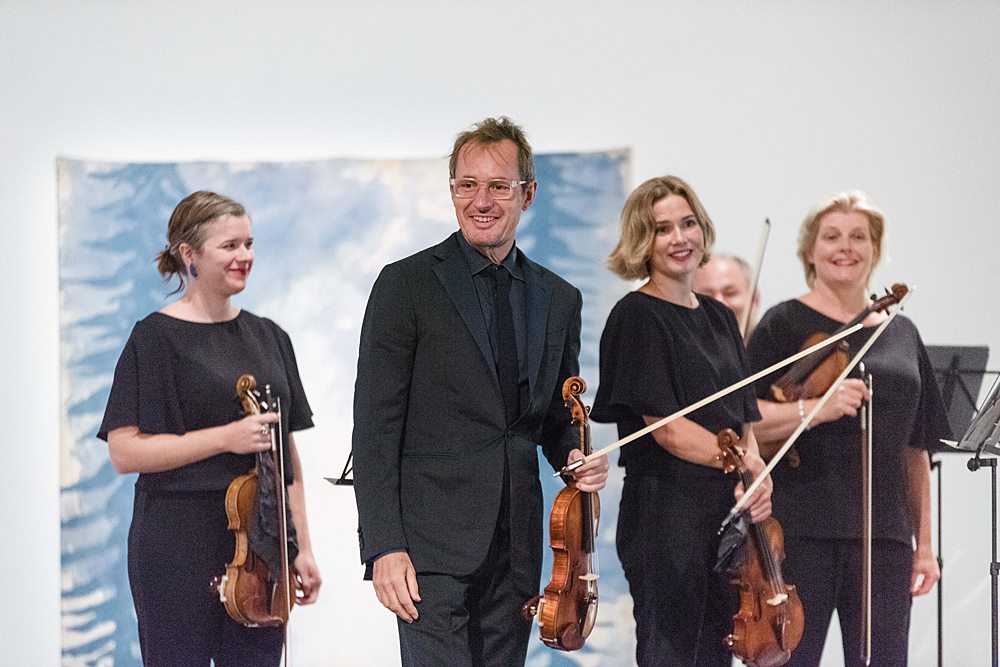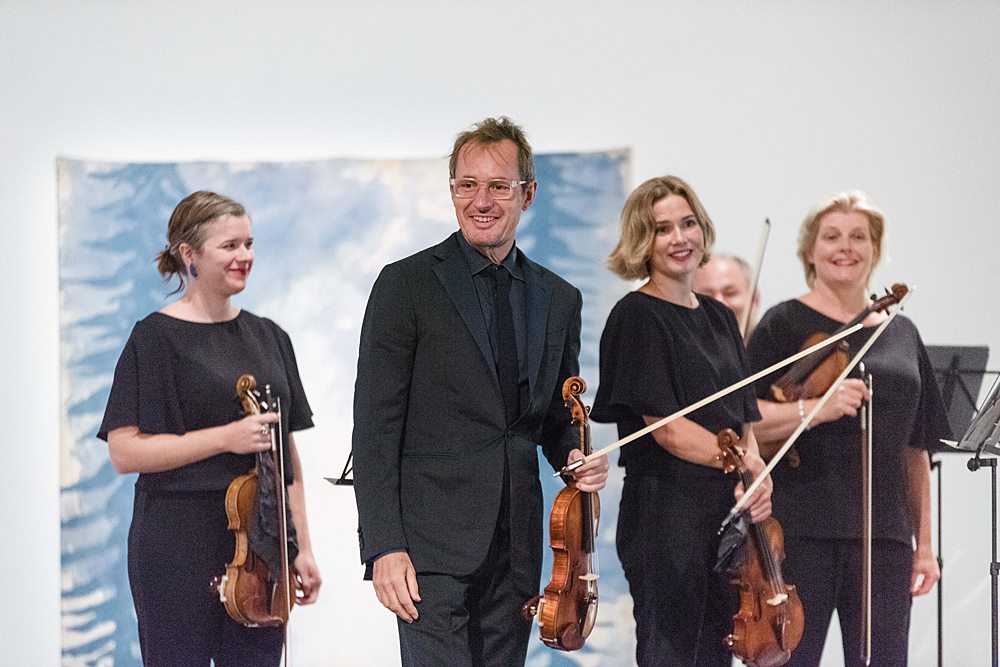 The TarraWarra Festival: Australian Chamber Orchestra 2024
Join us for the TarraWarra Festival! For the 2024 TarraWarra Festival, Richard Tognetti and the ACO will perform a unique suite of concerts in the central gallery of TarraWarra Museum of Art. The Orchestra and audience will be surrounded by Systems and Structures, an exhibition featuring significant works from the Museum's collection by artists, including Howard Arkley, Lesley Dumbrell, Rosalie Gascoigne, Robert Hunter, Hilarie Mais, John Nixon and Robert Owen, who each explore geometry, seriality, repetition, and systematic parameters as a key element in their artistic processes.
In the adjacent gallery SUPERsystems: Peter Atkins and Dana Harris will feature major new works by two of Australia's leading contemporary practitioners. For Dr. No (after Maurice Binder), 2020–2023, Peter Atkins deconstructed the animated opening sequence for the first James Bond film down to individual frames and then painted exact replicas of each high-keyed geometric abstract composition. Initiated during the long lockdowns in Melbourne, Dana Harris's fancywork, 2020–2023, comprises of intricately hand-embroidered panels based on the artist's daily excursions walking through and mapping the largely deserted urban landscape of the inner city.
Also on show will be The Industrial Design of Clement Meadmore—The Harris/Atkins Collection. Featuring an extensive group of individual pieces by one of the key figures of Australian modernist design, this outstanding collection will reveal Meadmore's remarkable ability to manipulate the most basic materials such as steel rod, cotton cord, sheet metal, canvas and thin plywood into functional, innovative and durable objects.
Festival packages include three concerts, an exclusive behind the scenes masterclass, exhibition entry and complimentary food and refreshments.
PROGRAM
SATURDAY AFTERNOON – LEAVES OF AN UNWRITTEN DIARY
Richard Tognetti Director & Violin
Australian Chamber Orchestra
BRYCE DESSNER Pulsing Australian Premiere
JS BACH (arr. strings) Kanon zu acht Stimmen, BWV1072
JS BACH (arr. strings) The Art of Fugue: Fuga a 3 Soggetti (unfinished)
GERALD FINZI Romance for String Orchestra, Op.11
KRZYSZTOF PENDERECKI Leaves of an Unwritten Diary
SUFJAN STEVENS (arr. Michael Atkinson) Suite from Run Rabbit Run
SATURDAY NIGHT – ON A SPRING MORNING: SCHUBERT, PÄRT, MOZART
Richard Tognetti Director & Violin
Stefanie Farrands Viola
Timo-Veikko Valve Cello
Australian Chamber Orchestra
TOM COULT Prelude (after Monsieur de Sainte-Colombe) Australian Premiere
LILI BOULANGER (arr. Bernard Rofe) D'un matin de printemps
FRANZ SCHUBERT (arr. Dobrinka Tabakova) Arpeggione Sonata in A minor
JOHN LUTHER ADAMS Solo work for double bass Australian Premiere
ARVO PÄRT Für Lennart in memoriam
PAUL HINDEMITH Trauermusik
WOLFGANG AMADEUS MOZART (arr. strings) Violin Concerto No.4 in D major, K.418
SUNDAY MORNING – Masterclass: Wolf and Purcell
Helena Rathbone and ACO Collective present a workshop featuring the music of Hugo Wolf and Henry Purcell.
SUNDAY LUNCHTIME – SERENADES AND SUITES: PURCELL, ELGAR, GRIEG
Richard Tognetti Director & Violin
Australian Chamber Orchestra
Featuring ACO Collective directed by Helena Rathbone
HUGO WOLF Italian Serenade*
HENRY PURCELL Fantasia on One Note*
ERWIN SCHULHOFF (arr. strings) Five Pieces for String Quartet: Selections
EDWARD ELGAR Sospiri
JOSEPH HAYDN String Quartet in D major, Op.20 No.4: Selections
EDVARD GRIEG Holberg Suite
* Performed by ACO Collective
Please Note: TarraWarra Museum of Art will be closed to the general public from 3–5 May 2024.
BOOK PACKAGES
BOOK TICKETS