TarraWarra Biennial 2023: Phuong Ngo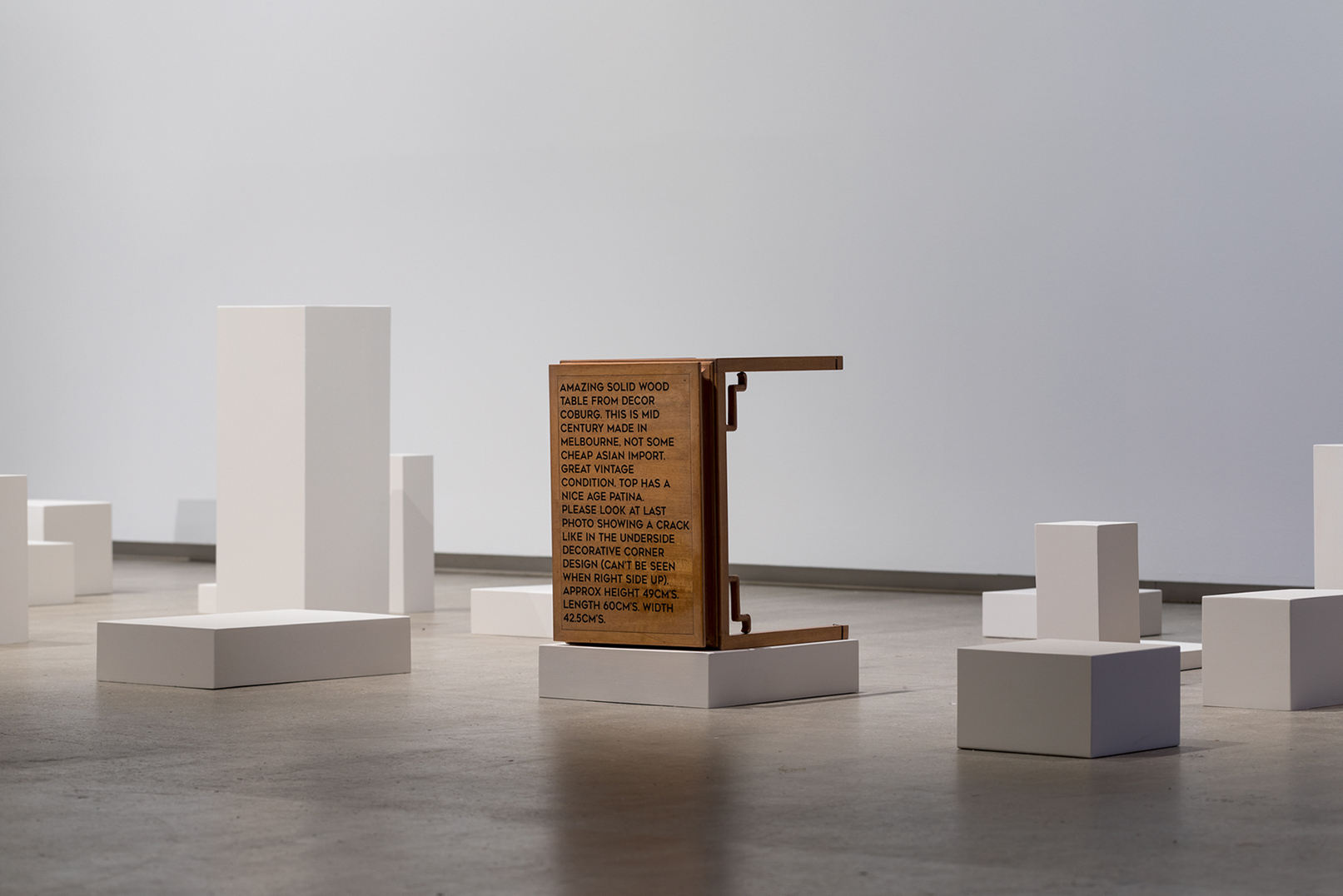 Learn more about TarraWarra Biennial 2023 artist Phuong Ngo's artwork, Remastered, 2023.
Simplified Chinese  translation 简体中文翻译 
Vietnamese translation –> Bản dịch tiếng Việt
Remastered is an artwork by Phuong Ngo that literally and metaphorically dismantles the racialised underpinnings of white Australia. For this project, the artist sourced and pulled apart furniture dating from pre-1963 that had been labelled, by law, with the racist phrase 'European Labour Only'. Ngo then reassembled these various pieces of furniture into fictional art objects in the form of a series of white plinths. One piece of furniture remains and is exhibited here with the text that recently accompanied it on Facebook Marketplace. This text shows how these racist attitudes persist today. In this work, the artist is centring his own labour in addressing the historical exclusion and discrimination against 'People of Colour'.
Set out in the Victorian Factories and Shops Act 1896, the 'European Labour Only' stamp was a legal requirement for furniture produced in Victoria. Similar laws were enacted across Australia during this period and was perfectly complimented by the 1901 Immigration Restriction Act (White Australia policy) upon federation. A racially superior piece of furniture made by the best hands; the whitest hands; by 'European Labour Only' was contrasted with the 'inferior' furniture made by those forced to stamp their wears with 'Asiatic Labour' or 'Chinese Labour', much like the role of the current Australian Competition & Consumer Commission, designed to support and protect the buyer. These laws came into effect to protect the everyday white consumer rights and were abolished in 1963 only a decade before the dismantling of the White Australia policy.
In this first iteration of the project, the work responds to the context of TarraWarra Museum of Art, and museums more generally, through the artist's ironic use of the British Paints colour 'White Comfort'. By creating these works, Ngo aims to speak to the structural and hidden forms of racism that exist in institutions.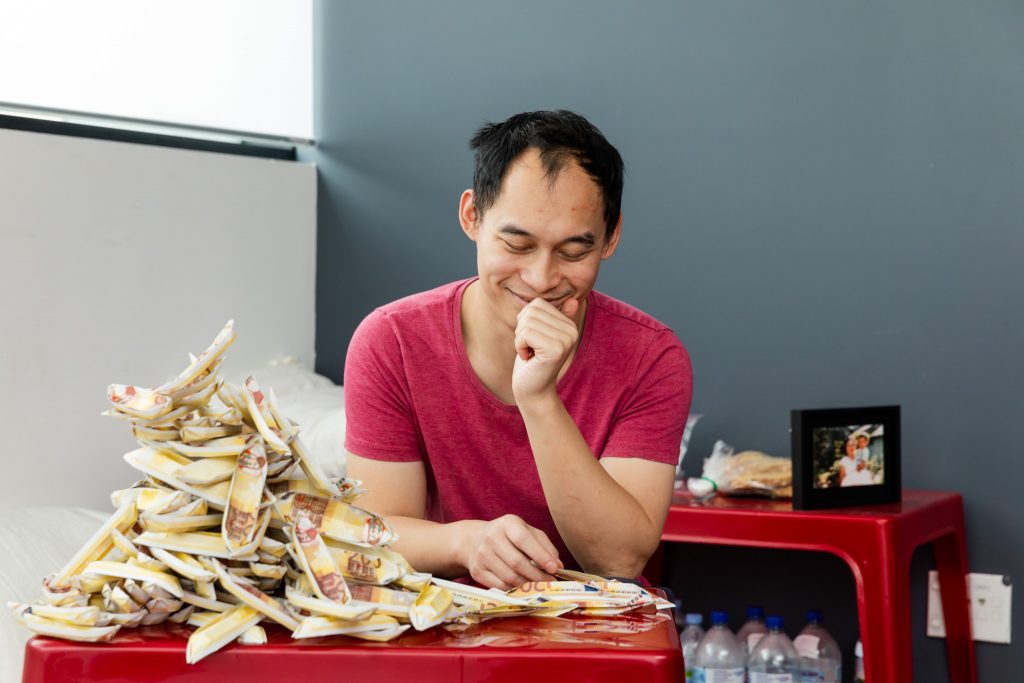 Remastered 2023
wood, nails, glue, synthetic polymer paint
Courtesy of the artist and THIS IS NO FANTASY, Melbourne
This artwork has been supported by the Georges Mora Fellowship; the Victorian Government through Creative Victoria; and assisted by the Australian Government through the Australia Council, its arts funding and advisory body
Remastered (Lapel Pins) 2023
Available in the gallery gift shop, lapel pins have been produced by Ngo utilising the offcuts of 'European Labour Only' furniture that was sourced to produce Remastered.
Addressing environmental concerns around waste in art production, these small wearable artworks expand on his previous work A World Vision, 2022, in exploring the racial nature of imperialism and its relationship to contemporary philanthropic practices and that are rooted in and capitalism and neo-liberalism.
With this work, Ngo specifically critiques the 'buy one give one' business model that has been utilised by wealthy countries as a charitable system of giving, the perfect marriage of capitalist consumption and imperialist giving. Thus, for every lapel pin purchased, a lapel pin will be gifted to a First Nations Person or a Person of Colour, with proceeds being given to community driven organisations.
Phuong Ngo's artwork is now showing as part of the TarraWarra Biennial 2023: ua usiusi faʻavaʻasavili, curated by Dr Léuli Eshrāghi.
The TarraWarra Biennial, 1 April–16 July 2023, features newly commissioned works by 15 artists/artist groups focused on the interconnectedness of the peoples of Australia, Asia and the Great Ocean.