Let's Meet … Judy!:
Online Children's Workshop with Yaz Gaté
Have you ever wanted to find out more about the lives and artworks of artists in the Museum's collection? While you can't visit TarraWarra Museum of Art at the moment, we're excited to bring a little bit of the Museum to you in our Let's meet … online workshop series for children and families!
To mark NAIDOC Week 2020—Always was, Always will be—we're holding a free online make-along workshop inspired by artist Judy Watson's powerful artwork Spine, 1997, featuring a painted spine-like form surrounded by shifting and swirling blues and browns. The 'spine' in this artwork suggests the relationship between body and land that is so important in Indigenous culture, and symbolises strength and resilience in an ever changing world.
Join Melbourne-based artist and educator Yaz Gaté online and learn about the different ways Watson applies pigment and paint to unstretched canvas and paper, before making your own two-dimensional artwork using unconventional and experimental processes.
Judy Watson is one of Australia's most important and celebrated contemporary artists, whose Aboriginal matrilineal family is from Waanyi country in north-west Queensland. TarraWarra Museum of Art will present Watson's artwork in the upcoming summer exhibition Looking Glass: Judy Watson and Yhonnie Scarce. 
This interactive online workshop will run for 60 minutes and be delivered via Zoom Meeting. It is suitable for children aged 8-12 years. Participants will need a computer or smartphone with an internet connection. Please contact our Education Coordinator Shannon Lyons shannon@twma.com.au if you have any queries about the Zoom platform.
Online via Zoom.
FREE, one registration per family required, bookings essential and limited capacity. Attendees will be sent a link for the Zoom Meeting 1 hour before (9.30am AEST) the workshop is due to commence on the day.
We suggest that participants ensure that all work surfaces are adequately protected, and that all materials are set up ahead of time. Participants should wear old clothing or an apron.
TarraWarra Museum of Art is grateful to Education Program Supporters Ullmer Family Foundation, Scanlon Foundation, Escala Partners, Credit Suisse, Erdi Foundation and Bennelong Foundation.
Further Information
Yaz Gaté is a passionate educator, artist, mother, and the founder of Tiny Cupboard Creatives—a small business providing exciting in-home studio and virtual classes, workshops and events for learners of all ages. With over seventeen years experience teaching English as an Additional Language and Art at primary and secondary levels, in both Australia and the UK, Yaz especially loves delving deep into artists practices and sharing their stories, processes and techniques with younger creatives. Yaz's distinct artworks feature thick black lines, bright pops of colour and modern botanics, inspired by her journey in discovering her roots and exploring her cultural disconnect as a second generation Filipina – Australian. She especially loves it when art and storytelling collide, and revels in collaborating with other creatives.
Find Yaz Gaté on Instagram, Facebook and YouTube, and at tinycupboardcreatives.com.au.
Online workshops will be hosted via Zoom Meeting. Participants must check that their computer and internet service being used to access the online workshop is compatible with the minimum specification requirements to use Zoom. Please check your compatibility here.
You must check your computer, tablet or smartphone for Zoom compatibility prior to the start of the online workshop. Test your Zoom connection https://zoom.us/test and should issues arise please seek support via Zoom.
You can choose to enable your video in the Zoom Meeting. For the best experience, we ask that you set your microphone to mute, and that you raise your hand before unmuting to ask questions or share comments during the workshop. If you'd prefer, you can ask a question or share comments via the chat function.
By registering in an online workshop you are giving permission for you and/or your child to be photographed. Photos may be used by TarraWarra Museum of Art for Education and Public Program promotional purposes. Please inform staff if you do not wish to be photographed.
Related exhibition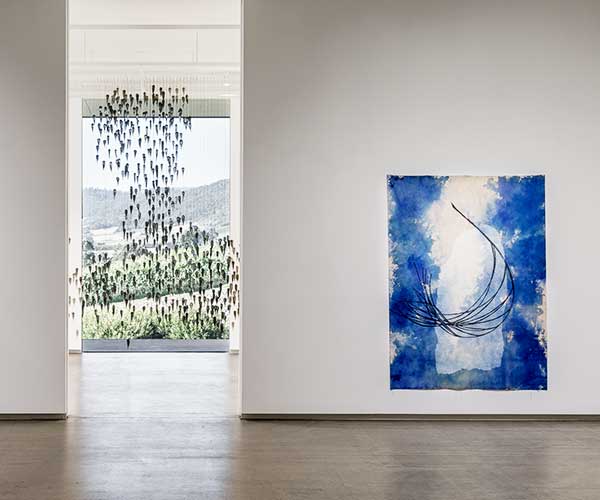 Looking Glass: Judy Watson and Yhonnie Scarce
Past Exhibitions

28 November 2020 - 8 March 2021
Closed This exhibition has now closed. The Museum will reopen 27 March for the TarraWarra Biennial Looking Glass is an important and timely exhibition which brings together two of Australia's most acclaimed contemporary artists— Waanyi artist, Judy Watson and Kokatha and Nukunu artist, Yhonnie Scarce. At its heart, the exhibition is both a love song […]