Aboriginal and Torres Strait Islander Art at TarraWarra Museum of Art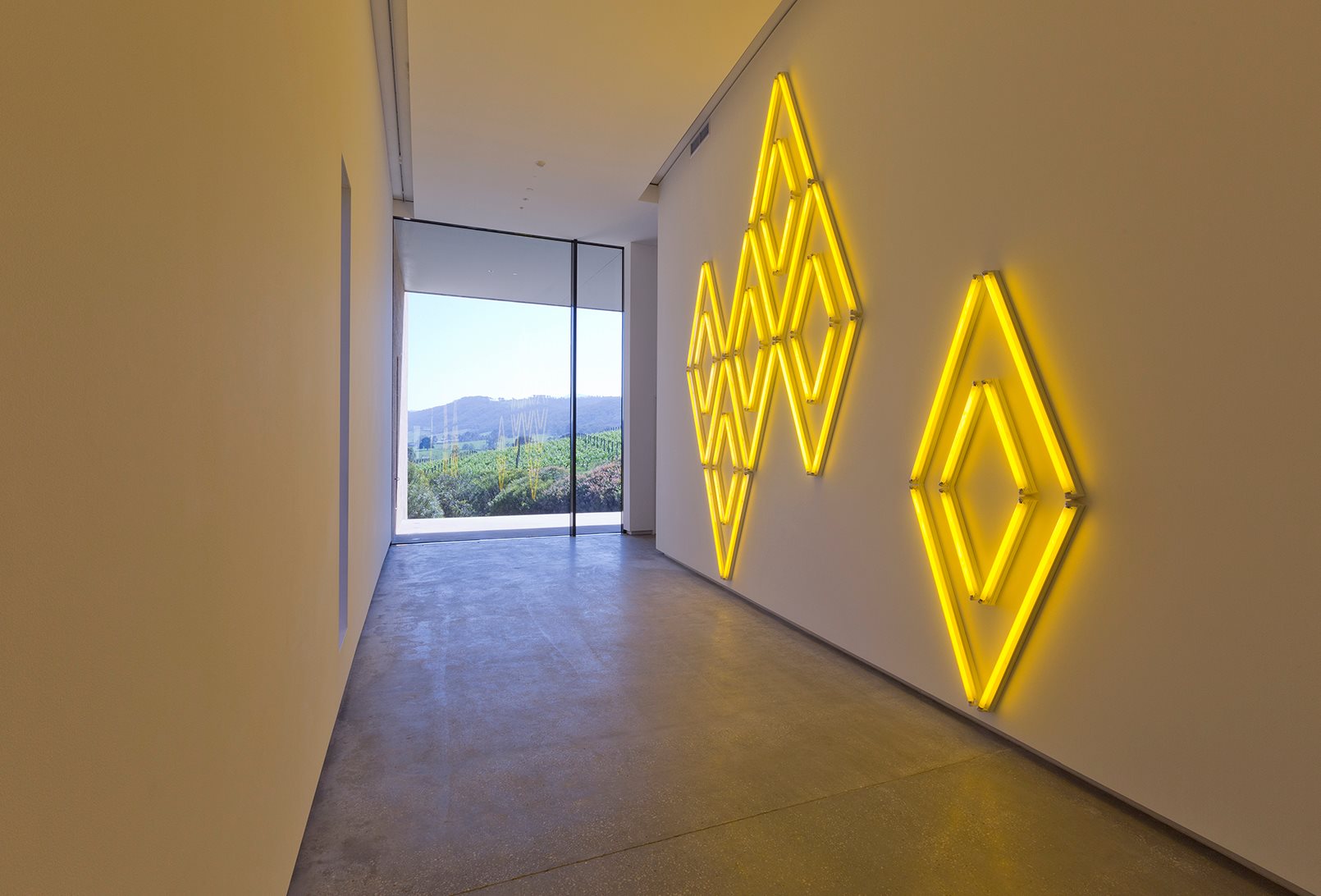 The First Peoples of Australia are the oldest continuing culture in the world—over 60,000 years—and Aboriginal and Torres Strait Islander artists comprise a significant proportion of our artmaking community. Working in a wide variety of forms and media, their works often convey a range of responses that reflect their abiding connection to Country; their Ancestral lands. 
TarraWarra Museum of Art acknowledges the Wurundjeri people of the Kulin Nation as the original Custodians of the lands and waters on which the Museum stands and we extend our respect to their community, their Ancestors, and their Elders, past, present and emerging. Through our ongoing engagement with the Wurundjeri community we have sought to understand and communicate the complexity of our site, focusing on the broader intersections between art and place. Central to this aim is the recognition of the Wurundjeri people as the First Artists of this Country, and we proudly commission works which explore the rich Wurundjeri culture of the Yarra Valley. 
From this grounding in place, we seek to foster a culture and a community that proudly recognises and respects the living traditions, deep knowledge systems, compelling artistry, and ongoing connection to Country of First Peoples across Australia. Through the presentation of a range of stimulating, innovative and challenging commissions, exhibitions, public programs, and learning and engagement activities, TarraWarra continues to collaborate and engage with Aboriginal and/or Torres Strait Islander artists, curators, writers, performers, organisations, communities and Elders in order to provide opportunities to share with our audiences their diverse artistic and cultural practices, express their historical experiences, and convey their unique contemporary perspectives and insights. The First Peoples of Australia are the oldest continuing culture in the world—over 60,000 years. Aboriginal and Torres Strait Islander artists comprise a significant proportion of the art-making community in Australia, working in a wide variety of forms and media their works often convey a range of responses that reflect their abiding connection to Country, their Ancestral lands.
The Landscape Awry
In 2012, TarraWarra Museum of Art produced The Landscape Awry. This two-day event comprised of performances, video projections, conversations and lectures about the idea of landscape by distinguished speakers including Senior Wurundjeri Elder Aunty Joy Murphy Wandin AO, Jane Lydon, David Pledger, Richard Flanagan, Nikos Papastergiadis, Janet Laurence, Tony Birch, Jonathan Jones and Paul Carter. The aim was to explore the meanings and histories of the site upon which the Museum sits. Aunty Joy introduced us to the Coranderrk Aboriginal Station, which was established by Wurundjeri people and other displaced Aboriginal people in 1863. Coranderrk quickly became both a thriving economic community and a powerful base for Aboriginal self-organisation and political advocacy. In the ensuing decades, Coranderrk was gradually reduced and undermined by the Victorian Colonial Government, ultimately leading to the dispersal and forced removal of the community to Lake Tyers in 1924, leaving only a handful of determined elders. Today Coranderrk continues to be an important living place for Wurundjeri and for the wider Aboriginal community. 
Future Memorials
Following on from The Landscape Awry, in 2013–14 the Museum commissioned the exhibition Future Memorials by Jonathan Jones, Tom Nicholson and Aunty Joy Murphy Wandin in commemoration of the 150th anniversary of the establishment of Coranderrk. The design of the large-scale installation untitled (shield design) by Jonathan Jones with Aunty Joy, was based on the wooden parrying shield made by William Barak in 1897 which features a distinctive carved diamond pattern. Like a shield, Ngurungaeta (cultural leader) Barak, was steadfast in his campaign for the rights and protection of his people—promoting the strength and legitimacy of his community at Coranderrk—while maintaining their cultural heritage. The colour of the yellow light refers to Barak's and his father's prediction of their own death who both stated that they would pass when the muyan (wattle) bloomed. The use of light also finds a connection in Barak's paintings of ceremonies, which details two fires, one for Wurundjeri and the other for guests/visitors.
The installation by Tom Nicholson, a non-Aboriginal artist, Towards a monument to Batman's Treaty, 2008–2013, proposes the future realisation of a public monument in the form of a free-standing chimney covered by an array of different plaques which draw out the contradictory meanings of the Treaty that Batman claimed he signed with Wurundjeri people in 1835. The work is comprised of the exact number of bricks required to construct the chimney, and the texts for the multiple plaques that would encase it. The work is part of Nicholson's ongoing interest in the early history of Melbourne, and in the possibilities of re-animating the form of the monument towards a more complex, even contradictory, articulation of our history. Nicholson's project evolved over five years in relation to several important dialogues with the Aboriginal rights solidarity activist Clare Land, with the writer and historian Tony Birch, and with Aunty Joy Wandin Murphy.
Daniel Boyd, Untitled 2013
The Coranderrk story has continued to inspire many of the Indigenous artists who have worked with the Museum. In 2014, the artist Daniel Boyd reimagined a photograph taken by Fred Kruger of the Station as part of the TarraWarra Biennial 2014: Whisper in My Mask. In his painting, Untitled, 2014, which is now part of the Museum's collection, Boyd has altered the original photograph's idyllic image of the residents of the station at leisure through the combination of partially rendered details and darkened and shrouded areas of paint and charcoal. In this way, the work alternately reveals and conceals, highlighting our inability to ever fully see or grasp a complete perspective on the landscape of the past. The work foregrounds the notion that the depiction of Aboriginal people through historic documentary photography does not represent a 'truth', but rather a complex construction. 
Earth and Sky
In 2015, the Museum presented two projects with the Melbourne-wide festival ART+CLIMATE=CHANGE. Earth and Sky: John Mawurndjul and Gulumbu Yunupingu, curated by Arrente and Kalkadoon curator Hetti Perkins, celebrated two of Australia's most significant and influential artists, John Mawurndjul and the late Gulumbu Yunupingu. Well versed in the traditions of their respective Arnhem Land communities, Yunupingu and Mawurndjul have each forged a distinctive artistic course; personal narratives which are inextricably linked to the traditions of millennia. The spiritual nature of this engagement is distilled in paintings that resonate with a power that is both ceremonial and celebratory. Their works not only reveal their singular vision, they herald the emergence of bark painting as a vital form of contemporary art practice that eloquently asserts their people's enduring connection to Country—the earth and sky and all in between. The depth of this Indigenous engagement with Country was, for the Museum, the natural starting point for any discussion on climate change and culture.  
Judy Watson: the scarifier
 In 2016, the Museum commissioned the artist Judy Watson to create an installation in response to a collection exhibition entitled Panorama. Watson's Aboriginal matrilineal family are from Waanyi country in north-west Queensland and her process involves working with stories and memories of Indigenous Country. Watson created a specially commissioned new installation in response to the Museum's location in the Yarra Valley. Following lines of emotional and physical topography that centre on particular places and moments in time, she focused on both the history of Coranderrk Aboriginal Station and the mountains that surround the Museum. Entitled the scarifier (in reference to the tool that was used to farm the land, marking it with the scars of colonisation), the installation included tall saplings that resemble those used by Coranderrk residents for growing hops—the main production at the Station. In addition, a copy of the minutes of evidence from the Parliamentary Inquiry of 1881 was pierced by cross shaped pieces of wire. A cow skeleton resting on a mixture of Coranderrk and TarraWarra soil, colonial style clothing, blankets and the sound of the running water of Badger Creek amplified the invocation of Indigenous country in the work. Watson's loose hanging canvases provided cartographic-like images of the panorama of mountains that surround the Museum, as seen from a digital mapping perspective. In this way, her exploration of the past history of the Yarra Valley shifts into a different spatial register albeit one that is rendered in earthy colours of ochre, red, yellow, cream and brown.  
Hollowing Earth
In 2017, TarraWarra presented Hollowing Earth, a newly commissioned work by Kokatha and Nukunu artist Yhonnie Scarce, as part of the  ART+CLIMATE=CHANGE 2017 festival. Scarce, was born in Woomera, South Australia, which lies 84km south of Roxby Downs, a town built in 1987 to service the Roxby Olympic Dam mine and processing plant. This poly-metallic underground mine is the largest single deposit of uranium in the world and is expected to run for another 200 years. For this exhibition, Scarce created fifty transparent glass objects, tinged with the acidic hue of uranium. Each object was twisted and turned in the creative process into the shape of a bush banana, a traditional food for Aboriginal people. Her glass shapes also resembled bodily organs, and some were sandblasted with holes, tinged with brown, and uranium oxide, to represent sickness and deformity. Their shapes were scarred, just as the earth has been scarred. 
Clearing
In 2019, the Museum commissioned a new installation by Katie West, a Yindjibarndi woman who combines naturally dyed textiles, installation and social practice to formulate ways to practice custodianship in still colonised and ecologically compromised contexts. For this exhibition entitled Clearing, West wove the many threads of her practice together—natural dyeing, meditation and the creation of reading and listening spaces where the voices of Indigenous people dominate. Comprised of floor to ceiling textile works, cushions and seating, all naturally dyed using plants collected from the local region, as well as key texts by Indigenous writers, this multisensory installation called for a renewal of human connections with and within the natural environment. 
Body Remembers
Shown concurrently with West's exhibition, the Museum presented Body Remembers, Tracey Moffatt's series of ten sepia-toned black and white photographs, which was met with critical and popular acclaim when first shown at the Venice Biennale in 2017. The series' protagonist is a maid, the artist herself, who is stranded on a colonial property. Moffatt describes the series as 'a play with time, backwards and forwards of the past and present'. Drawn from the collection of Neil Balnaves AO, this display marked the first Victorian presentation of Body Remembers and the video work Vigil, 2017. The photographs' unsettling allusions to the ongoing legacy of colonisation and the video's dramatic montage of footage highlighting the disastrous consequence of our attitudes towards refugees, together reverberated powerfully with broader concerns about identity and place. 
Conversations on Country
As part of ART+CLIMATE=CHANGE 2019, the Museum presented Conversations on Country, an afternoon of discussion and performances that presented a range of contemporary expressions and enactments of Indigenous knowledge of land and culture. Speakers included Aunty Joy Murphy Wandin AO, Senior Wurundjeri Elder, who gave a Welcome to Country; Wurundjeri women Brooke Wandin and Jacqui Wandin, who discussed the work that Wandoon Estate Aboriginal Corporation has undertaken at Coranderrk Aboriginal Station and beyond; Uncle Dave Wandin, who spoke about his award-winning Firestick Project, a Wurundjeri-led program which teaches traditional fire-practices, culture and the environment; author and academic Kerry Arabena, a descendant of the Meriam people of the Torres Strait, who spoke about universal indigeneity, citizenship and our place in living systems; and Katie West, who spoke about her exhibition Clearing. The event concluded with a performance by the Djirri Djirri Dance Group who offer dance as an interpretation of Wurundjeri culture and tradition.  
untitled (seven monuments)
In April 2019, untitled (seven monuments) was launched at Coranderrk Aboriginal Station, a major public art project by Aunty Joy Murphy Wandin, Jonathan Jones and Tom Nicholson. The work comprises of seven monuments which have been installed throughout the region of present day Healesville and surrounds to delineate the boundaries of Coranderrk when it was at its largest, in 1866, at some 4,850 acres. Each marker is an upturned flagpole and brick footing, with a plaque on each face, surrounded by Coranderrk (Christmas bush). untitled (seven monuments) invites the public to move between these markers to learn about Coranderrk's extraordinary history and traverse Wurundjeri country.  
Looking Glass
In 2020–21, the Museum presented Looking Glass, an important and timely exhibition which brought together two of Australia's most acclaimed contemporary artists—Waanyi artist, Judy Watson and Kokatha and Nukunu artist, Yhonnie Scarce. TarraWarra has partnered with NETS Victoria to tour Looking Glass to museums across Australia from 2021–2023. At its heart, the exhibition is both a love song and a lament for Country; a fantastical alchemy of the elemental forces of earth, water, fire and air. Watson's ochres, charcoal and pigments, pooled and washed upon flayed canvases, have a natural affinity and synergy with Scarce's fusion of fire, earth and air. Watson and Scarce express the inseparable oneness of Aboriginal people with Country, a familial relationship established for millennia. Watson and Scarce, like all Indigenous Australians, share recent and personally painful histories of the destruction, exploitation and degradation of not only the land, but the people of the land. Essentially, this exhibition is about Australia's secret and dirty war—a battle fought on many fronts from colonial massacres to Stolen Generations, from the Maralinga bomb tests to the climate emergency. In their works, the artists poignantly remind us how the pursuit of the Great Australian Dream is not what it seems. It is, in reality, a nightmare, a shimmering mirage, a candle in the coming storm. 
The TarraWarra Biennial
Since its inception in 2006, the TarraWarra Biennial has also been a significant platform for presenting newly commissioned or recent work by leading contemporary First Nations artists including: Vernon Ah Kee, Robert Andrew, Artists from Erub Arts, Richard Bell, Daniel Boyd, Megan Cope, Vicki Couzens, Destiny Deacon, Karla Dickens, Fiona Foley, Nicole Foreshew and P. Thomas Boorljoonngali, Julie Gough, Dale Harding, Sandra Hill, Noŋgirrŋa Marawili, Anniebell Marrngamarrnga, Brian Martin, Romaine Moreton, Alison Murray, Vincent Namatjira, Yukultji Napangati, Rusty Peters, Ryan Presley, Ben Pushman, Mandy Quadrio, Ray James Tjangala, The Tjanpi Desert Weavers, Johnny Yungut Tjupurrula, James Tylor, Wukun Wanambi, and Aunty Joy Murphy Wandin and Jonathan Jones. 
WILAM BIIK
From 2019–2022, TarraWarra realised its partnership with Creative Victoria and the Australian Centre for Contemporary Art.  Entitled Yalingwa, this major visual arts initiative for First Nations artists and curators, resulted in the awarding of a major Artist Fellowship to Yhonnie Scarce and resulted in the production, by the Museum's First Nations Curator Stacie Piper, of WILAM BIIK, a significant exhibition of South Eastern Aboriginal art in a national context in 2021. In the Woiwurrung language of the Wurundjeri people, Wilam Biik means Home Country. WILAM BIIK is an exhibition of cultural consciousness and knowledge, of an unsevered connection between First Peoples of South East Australia and their Country, over thousands of generations. 
The exhibition featured new work from contemporary artists Paola Balla (Wemba Wemba, Gundjitmara), Deanne Gilson (Wadawurrung), Kent Morris (Barkindji), Glenda Nicholls (Waddi Waddi, Ngarrindjeri and Yorta Yorta), Steven Rhall (Taungurung), Nannette Shaw (Tyereelore, Trawoolway, Bunurong), Kim Wandin (Wurundjeri), Arika Waulu (Gunditjmara, Djapwurrung, Gunnai), Rhiannon Williams (Wakaman, Waradjuri), and the Djirri Djirri Wurundjeri Women's Dance Group (Wurundjeri, Dja Dja Wurrung, Ngurai Illum-Wurrung) together with works by William Barak (Wurundjeri), Timothy Korkanoon (Wurundjeri), Granny Jemima Burns Wandin Dunolly (Wurundjeri), Joyce Moate (Taungurung), and a selection of ancestral personal tools and adornments from the South East Australian region. 
Artwork: untitled (shield design) 2013 (detail) by Jonathan Jones (Kamilaroi/Wiradjuri) and Aunty Joy Murphy Wandin (Wurundjeri) after William Barak (Wurundjeri), fluorescent tubes and fittings, electrical cable. Courtesy of the artists. Photo: Christian Capurro